How to look stunning with yellow?
09 Apr
We love the yellow with white sneakers for a more relaxed look, worn over jeans, combined with a more retro dress or with heels as an alternative to the little black dress for the evening. The yellow dress can fill us with joy, but we must be careful to find the right shade for us.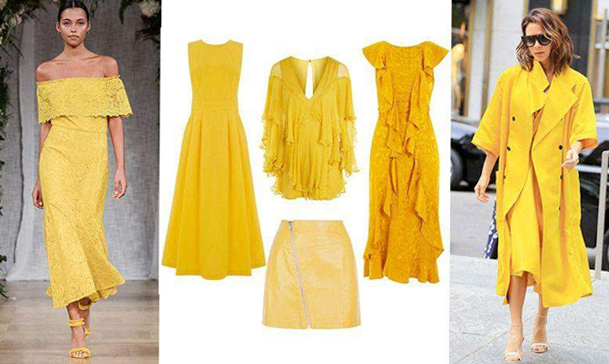 Before choosing the best shade for you, it is good to consider the color of your skin, hair and eyes. Dark yellow (and golden tones) are suitable for all skin types, while yellow olive oil (in green tones) fits best with the complexion of ladies with a golden tan on the skin. Light skin tones look better with mustard, but sometimes with a soft pastel yellow. In addition, dark, dark skin goes perfectly with light, vibrant yellow.
Finally, it is good to know that the bright yellow dress is suitable for any occasion from morning to evening, so what prevents you from perceiving it in your daily life and enjoying a cheerful, glamorous and fresh mood?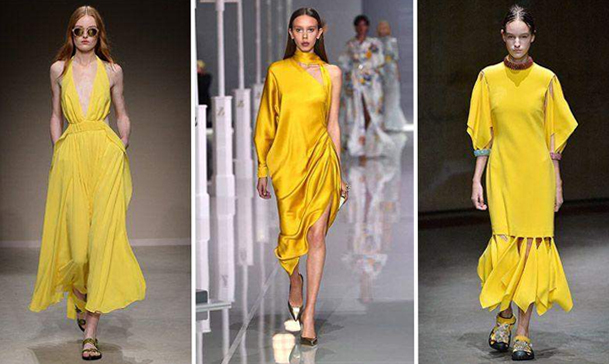 There are some combinations that will help you incorporate yellow into your everyday style of dress.
➤ Yellow with orange:

The combination of these two "close" colors creates an impressive and cheerful result. Yellow seems to dilute the intense and "juicy" look of orange or red when combining the two colors and therefore fits perfectly in such outfits. With these two colors, expect the compliments to rain like rain.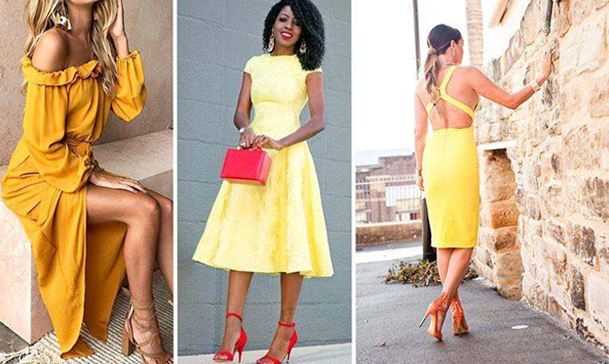 ➤ Yellow with blue:

Brave girls who are looking for "bolder" ideas for their clothes can always experiment with yellow and blue. Especially if the yellow color is combined with darker shades of blue.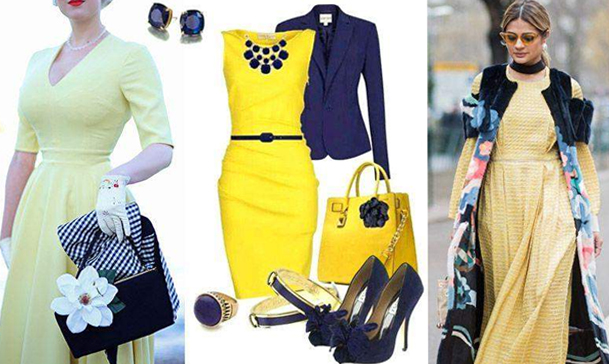 ➤ Yellow with purple:

It is a combination full of charm and mystery. Experimenting with these colors always attracts attention and there is no room for mistakes. Plus, this way, you'll have the two hottest colors of the season in one!
➤ Yellow with red:

Are you looking for extra attention? With this bold combination you will certainly not go unnoticed.
➤ Yellow with brown:

For a super romantic look, consider yellow and brown - the two mostly autumn colors. This is probably one of the most natural looking combinations.
➤ Yellow with gray:

A modern and elegant combination that we often find in the collections of avant-garde brands. Combine a yellow dress with gray or white shoes for an incredibly stylish look.
➤ Yellow with black:

One of the most favorite and interesting techniques for all new designers are the combinations between bright yellow and classic black.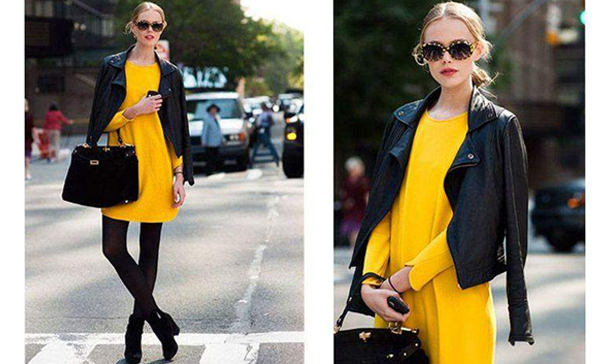 ➤ Yellow with green:

Is there a woman who doesn't like daffodils? Get inspired by the beautiful flower and wear yellow with green - nature rarely makes mistakes!

➤ Yellow with two colors:

When you decide that stylish yellow clothes are no longer a secret for you, you can become even more creative and combine yellow with more than one color.
For example, a bold outfit in yellow with dark fuchsia and black or a dress with bright shades and yellow touches. You will be amazed by the result and everyone will keep notes of your impeccable taste!
Share your opinion! Or leave a comment below