How to wear a linen suit this summer?
17 Jul
The linen suits we offer in our digital platform www.inisess-shop.com are stylish and modern. Their elegance and flexibility make them one of the most favorite clothes in the women's wardrobe for the summer months. In addition, with the help of matching shirts, blouses, tank tops and tunics, you get excellent casual, beach and holiday outfits.
The most suitable for the summer of 2020 will be women's pink, blue, yellow, purple and green linen suits in pastel tones. We also offer stylish and comfortable options in neutral colors such as graphite, sand, cream, caramel and olive oil. Great costumes consist of summer women's jackets with pants, skirts, dresses and shorts.
The topic of this post is how to wear linen suits. This is a universal summer trend, which changes from year to year with only a few details.
It should be noted that the silhouette changed a few seasons ago worldwide. This is due to a change in the silhouette of the suit as a whole. The changes this year also cover aspects such as the high waist, the free cut, the wide silhouette and the length game.
In order for such a suit to be modern and elegant, it is worth outlining the waist and leaving extra width in the hips, thighs and legs. Open shoes, models with thin straps and espadrilles are preferred shoe models that go best with linen outfits. Include a shirt or blouse made of delicate materials that also work well to add elegance to your outfit.
If your suit is in a classic style - add cool accessories to it.
Although linen is traditionally dyed in tones close to its natural color, the trend this year is women's suits in light but complex shades.
Try to combine the top and bottom in different tones. It is preferable for the pants or skirt to be in a darker shade. Wear it with a white shirt or T-shirt.
Linen is the material from which a suit with shorts will look organic and natural. You can choose sharper lines for a stylish look or a crumpled pattern for a casual one.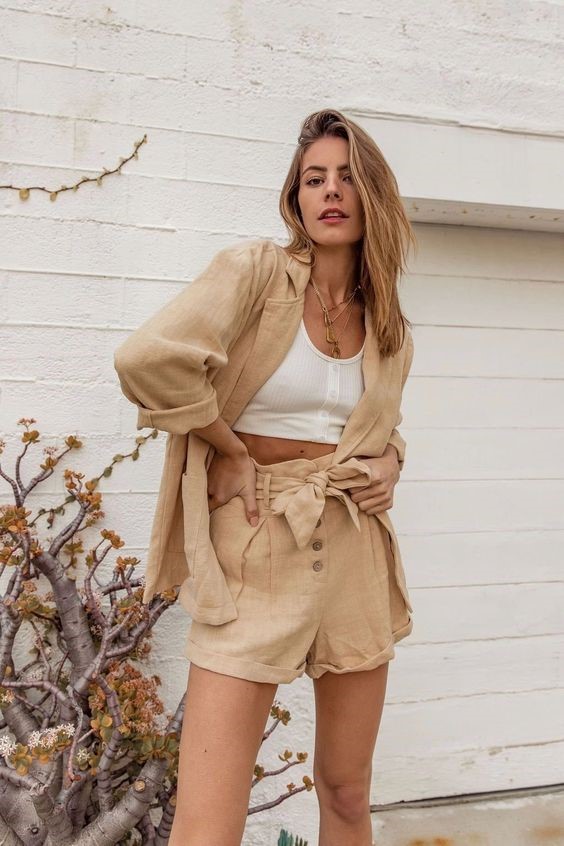 A cropped top or bustier is one way to add a playful touch to a loose linen suit. Linen dresses with jackets are also an elegant and sophisticated choice that will win you many compliments. Choose textures that look interesting when combined with linen. Pay attention to what fine blouses with inserts of lace, silk and cotton with such a texture look like.
The more organic the material of your suit looks, the more complex the material that is combined with it should be. In addition to linen, the delicate knitwear looks exciting. You can experiment with unusual fabrics for a unique look.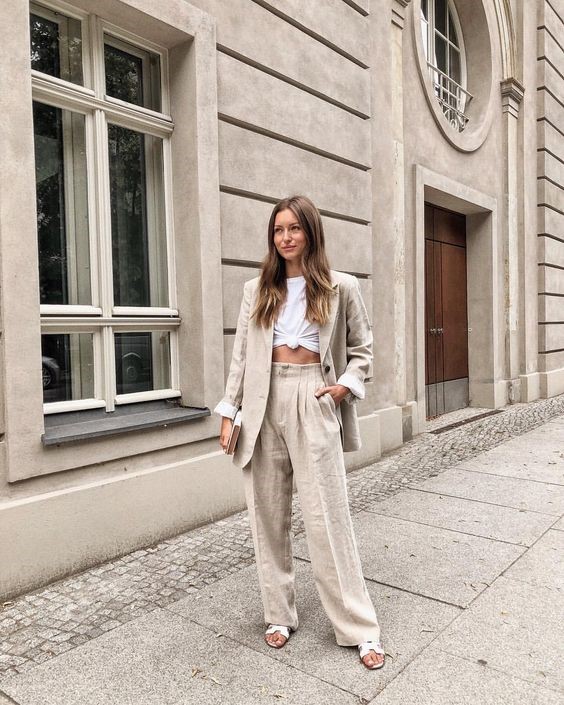 Flax in shades of hazelnut, sand and cream is a very interesting material with a character that deserves to be combined with luxury accessories. It is worth adding color accents to light shades. They do not have to be the same in tone, but it is desirable that they be in the same color scheme.
Of course, in addition to pants, linen suits look very cool with tunics, shirts, dresses, dresses and skirts. To keep up with the trends you can choose a skirt with midi length and free cut.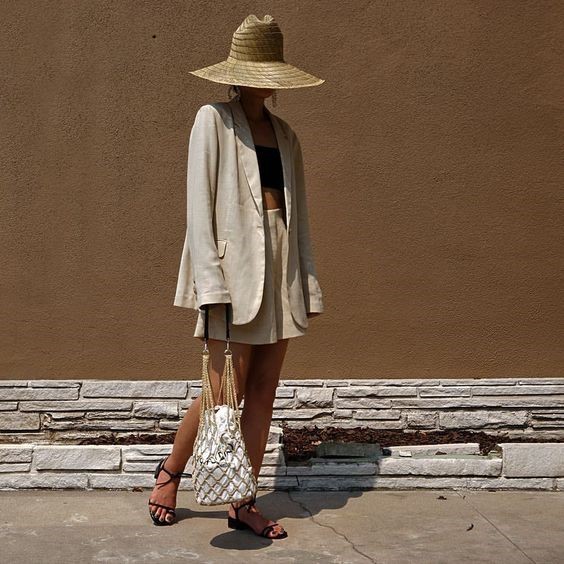 Those who are looking for a stylish summer dress made of natural materials should look in the online catalog of our store inisess-shop.com. Here you will find photos of linen clothes that are in line with fashion trends and the latest technological innovations. Full information about the goods is provided next to the professional photos, so your choice will be easy. If you decide to give a gift to a friend, relative or colleague, our consultants are ready to help you choose the color, model and size.
Source: thirtyfashion
Author: Silvia Florova
Share your opinion! Or leave a comment below