Colorful pants: inspiration from the 90's!
17 Jul
This year, according to research by the Panton Institute of Colors, we can expect women's clothing to be in colors such as pale purple, lime yellow, ultra violet, spring crocus, boy blue, chili oil, cherry tomatoes, blooming dahlias, corpses, arcadia. and the Emperor. This year, many models of pants in cheerful shades and pastel tones invite us to express ourselves and our uniqueness. So let's talk about how we can update our wardrobe and complement it with fresh and original models of pants.
Keep in mind that bright pants are a focal point and they should stand out. Therefore, choose clean models of blouses, bustiers, tops and sweatshirts. They should be without prints and inscriptions, so that the clothes are not too crowded and tiring. If you want to include a model, it is best to bet on a delicate stripe.
Bet on colorful pants in one of these chic colors, pair it with a black shirt or white top for a more formal look or just a striped T-shirt for a more relaxed and casual look for leisure. For your weekend or summer vacation, wear colorful pants with a white T-shirt or your favorite denim shirt. Shoes in the style of cat faces, ordinary espadrilles or platforms will complete the look. A pair of pants in a bright and cheerful color will provide you with a playful and modern look, wherever you are during the summer months!
The trend that is coming to us - or rather, that is coming back to us - from the 90s of the last century and which promises to turn our favorite pants (regardless of their cut) not only into a fashion statement of style, but also in an elegant basic element for everyday life.
As we know, all trends come back at one point, so this season the trends require us to add color not only to our pants, but also in our lifestyle. For a more modern look, we offer you to combine your colored pants with special elements and accessories such as white shoes or sneakers and a blouse or shirt. If you feel even more daring, choose pants in a specific shade and wear it with clothes and accessories from head to toe for a modern monochrome outfit. Remember the details: high waist, frayed details and faded fabrics (just like in the 90s) are extremely relevant.
Color everywhere

We usually prefer to wear tops in bright colors and pants in navy blue or black. This year, however, the designers' proposal is to make a change and give a different perspective to our appearance. We do not need to be afraid - there are many color combinations that we can experiment with. From purple pants with green blouses, lime pants with gray blouses, pink pants with comfortable colored t-shirts, pants in intense fuchsia with black tops, pants in pastel shades with white t-shirts and shirts…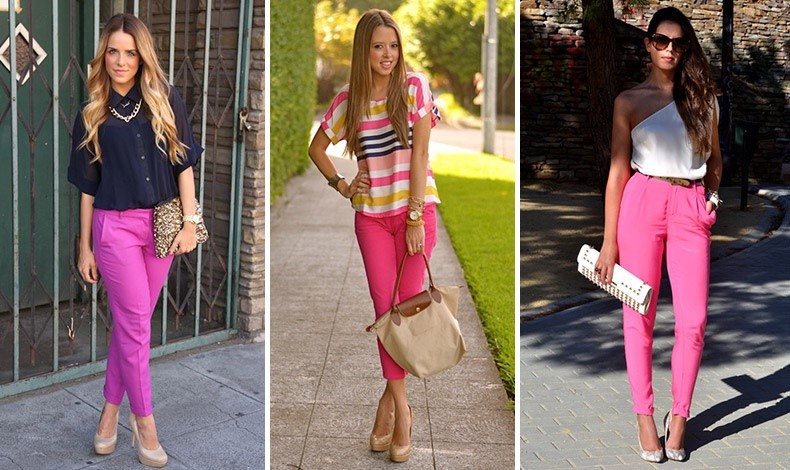 How to wear colored pants?

You can always combine your colored pants with a classic blazer or maybe you will dare to go further with orange pants and a top in dark or neutral shades. You can also try wearing trendy pastel pants with more conservative blouses and shirts. Pants in mint blue-green tones look great with a classic shirt or white lace blouse.
Choose shoes in neutral tones. Consider black, white or brown shades platforms, flat shoes, sandals and stilettos.
When it comes to women's jackets, choose bold colors, but that doesn't mean you have to give up classic or pastel shades.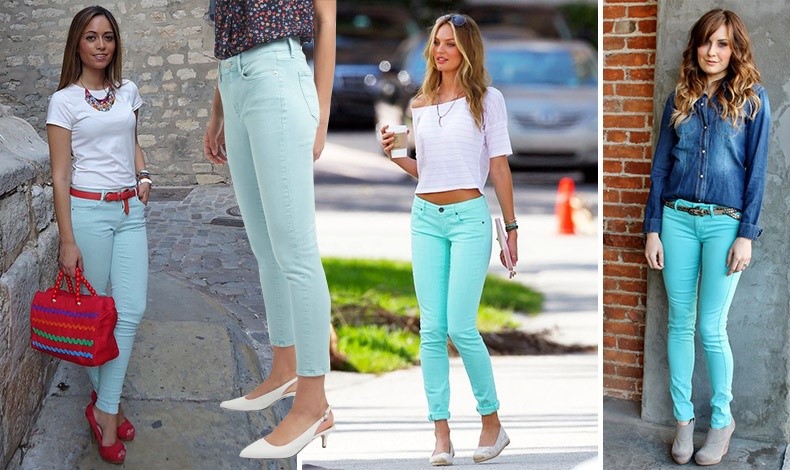 A few more ideas …

The return of fashion from the 90s is gaining momentum since the popular fashion trends summer 2016 and finally conquers all fashion trends spring summer 2017. Bright pants can be worn spring, summer, autumn, winter. When creating your clothes in saturated colors, you can also pay attention to hair color spring summer 2020, manicure spring summer 2020 and shoes spring summer 2020.
A light translucent white shirt looks great with turquoise pants.
Soft pink goes extremely well with tight knitted blouses with stripes.
Striped sweater in a nautical style with fuchsia pants and stunning accessories will give sea air to any outfit.
Purple pants go great with a floral shirt and brown accessories.
Play with fuchsia pants and a white T-shirt with a light stripe.
Pink blouse fits perfectly with pastel pants in appropriate colors.
A pastel green jacket looks perfect with a striped long-sleeved summer shirt and pastel pants.
Another great combination includes purple slim pants with a green pastel t-shirt.
Turquoise ankle pants and a white T-shirt with a jacket in the same shade also look elegant.

If you want to enjoy a pleasant and profitable shopping, look at the product catalog of our online store www.inisess-shop.com and get acquainted with our range of modern and comfortable colored pants in fresh and elegant colors. The choice of products in our new collection will be easy for every woman, as cat
Share your opinion! Or leave a comment below